Symposium "Problems with the HPV Vaccine" -- Reports from Japan and Overseas --
2015-11-23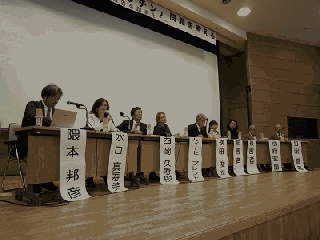 Medwatcher Japan will be holding a symposium on problems with the HPV vaccine.

It is not only in Japan but also in other countries where adverse effects from the HPV vaccine attract great deal of attention. In Denmark, for instance, the HPV vaccines are causing so much harms to many girls in the same way as in Japan, and an association has been set up for the HPV vaccine injured victims in UK. This seminar attempts to get to the bottom of the vaccine's problems, by inviting doctors at the forefront of research who have been among the first to examine many patients in Denmark and Japan, and hearing reports from victims in both Japan and overseas.

The invited speakers are Dr. Louise Brinth, Research Assistant at the Coordinating Research Unit, Frederiksberg Hospital, Denmark, Prof. Kusuki Nishioka, Director of the Institute of Medical Science, Tokyo Medical University and Dr. Shumpei Yokota, Emeritus Professor at Yokohama City University.

Following the keynote addresses given by the above speakers, we will hear some reports from girls and their families from Japan and overseas who have been affected by the HPV vaccines. We will then hold a panel discussion with the guest speakers and the mother of one affected girl. The panel discussion will be facilitated by Prof. Kunihiko Kumamoto of Edogawa University and Attorney Masumi Minaguchi. Both are members of Medwatcher Japan, the latter being the Secretary General.


Symposium "Problems with the HPV Vaccine"
-- Reports from Japan and Overseas --

Time : 1:30 - 5:30 P.M, Monday November 23rd, 2015
Venue : Tetsumon Hall
Hongo campus of the University of Tokyo

Session1: Keynote Lecture
 Dr. Louise Schouborg Brinth
 Prof. Kusuki Nishioka
 Prof. Shumpei Yokota

Session2: The Reports of situation of Victims

Session3: Panel Discussion

Fee for handouts: 500 yen
Japanese-English/English-Japanese simultaneous interpretation provided,
No reservation needed.

Related Documents And URL