Symposium" Drug Safety and Drug Companies Marketing" June 5th, 2010 (Guest speakers: David Healy, Derelie Mangin)
2010-06-05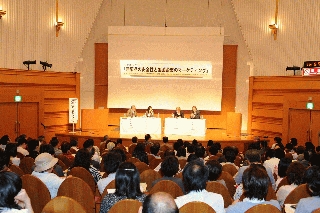 Medwatcher Japan Symposium
Drug Safety and Drug Companies Marketing

Time: 1:00 - 5:00 P.M, Saturday June 5th, 2010

Venue: The center for the Advancement of Working Woman
http://www.miraikan.go.jp/english/index.html


Medwatcher Japan issued a written request entitled, "Revision of the Package Insert and Need of Patient Information Leaflets on Antidepressant Paxil Tablets for Pregnant Women," to GSK and the MHLW in October 2009.

The Paxil issue is raising essential problems regarding, "Drug safety and Drug Companies Marketing". Two doctors, who testified for victims at Paxil litigations in the US, will give us key note lectures.

And special reports of current Japanese topics:Iressa litigations, the trials will be finished in the coming summer, and The MHLW board report concerning administrative reform, learning lessons from the drug-Induced hepatitis C, will be presented.
What is needed to prevent drug induced disasters?


<Symposium Schedule>

Session 1: Keynote Lectures  

Converting Japan and Women to Paxil
Prof. David Healy
      
Broken Hearts-SSRIs and Pregnancy   
Ass.Prof. Derelie Mangin


Session 2: Special Reports from Japan

The Iressa litigation
Masato Sekiguchi

Proposals of the Advisory Committee on Administrative Reform:Lessons Learned from Drug-Induced Hepatitis
Masumi Minaguchi

Session3:Discussion

The issues raised by SSRI and preventing drug-induced disaster.

Fee: free, no reservation needed
Simultaneous translation in Japanese and English

This event is co-hosted by Medwatcher Japan, The lawyers alliance for drug-induced victims, The Informed Prescriber, and NPO Japan Institute of Pharmacovigilance.

Related Documents And URL