10th Memorial Symposium of HIV Litigation Settlement December 3, 2006 (Guest speaker: David Healy)
2006-12-03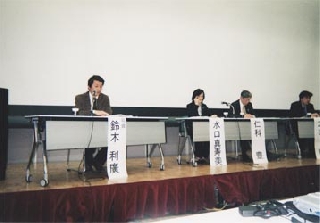 Session 1
Keynote Lecture
"Global Business Masquerading As Science - Human Laboratory"
Professor David Healy

Professor David Healy is a psychiatrist, and a professor in Psychological Medicine at Cardiff University School of Medicine. His literature includes "The Antidepressant Era," and "Let Them Eat Prozac: The Unhealthy Relationship Between the Pharmaceutical Industry And Depression."

Session 2
"Legal Responsibility for Drug Induced Hepatitis"
Reports on the Osaka District Court judgment on June 21, 2006 and Fukuoka District Court judgment on August 30, 2006.

Session 3
Symposium
"Lessons from Drug Induced HIV and Eradication of Drug Induced Disasters"

*The event was co-hosted by Tokyo HIV Litigation Attorneys Group, Medwatcher Japan The Informed Prescriber, and NPO Japan Institute of Pharmacovigilance.

Related Documents And URL